Speedy
Doggo
Hey, I'm Viktor, better known as SpeedyDoggo! I'm a creator specializing in retro-esque graphics and folkloric inspiration.
I make a wide variety of things, from comics to animated pixels to CYOA games.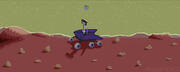 Find Me!
CURRENT COMICS
I'm currently working on one comic: Moirai Oscillation. I intend to start on a second, Midnight Agents, once Moirai Oscillation has a large enough buffer.
Moirai Oscillation, often shortened to Moose, is a soft sci-fi comic about a mysterious artifact and the way we change in our lives (and how we don't.) Its original run has been taken down, but it will return!
Current Writing
I restrict myself on writing projects, so I currently only have one: Year to a Day.